Daily cleansing, toning, and moisturising is all very well, but sometimes skin needs a little extra TLC, especially when you have a specific skin concern that needs addressing. More than just downtime in a jar, face masks are our skincare saviours, the equivalent of hitting a proverbial 'refresh' button on neglected, stressed-out complexions.
Whatever the claims (from blemish-battling to moisture-boosting), masks are the one-stop wonders of the skincare world – intensive treatments that translate into immediate results.
Here's what to look for in a mask if you have…
DRY SKIN:
Characterised by dullness, tightness, and itchy flakey patches, dry skin is triggered by harsh environments, irritating products, ageing, and general lifestyle factors. Counter it with ultra-rich oil-based formulas packed with softening and hydrating ingredients – hyaluronic acid, collagen, algae, and peptides – the best will use just about every trick in the book to replenish skin with moisture. These masks can ultimately be thought of as uber-hydrating creams – easy to apply and easy to remove, thicker textures will be most effective and are less prone to inciting irritation.
One to try: Nügg's Camellia Seed Oil Mask
Formulated with a cocktail of oils (including olive, cranberry, grape, and linseed) alongside soothing aloe and moisture-rich glycerin, this thick gel cossets skin in a soothing layer of creamy, hydrating heaven. Free from the damaging emulsifiers typically found in face masks, Nügg's formulas utilise Natural Oil Dispersion Technology to combine oil and water. The result is tiny particles that are easily absorbed into the skin to deliver deep and lasting hydration. Skin is left dewy, plumped-up, and velvet soft, and what's more, the one-shot packaging is perfect for an emergency moisture boost.
DEHYDRATED SKIN:
Skin feeling parched and tight and looking dull? Even the oiliest complexions can suffer dehydration; whilst dry skin lacks oils on the surface, dehydrated skin lacks moisture in the upper layers. A water-based mask will help to rehydrate and rejuvenate without irritating sensitive skin or triggering oil production – it's a refreshing alternative to heavy dry-skin moisturisers. Opt for light gel-like formulas that are rich in humectants (ingredients like hyaluronic acid and betaine which help to attract, absorb, and retain moisture) for multi-layer hydration and immediate comfort restoration.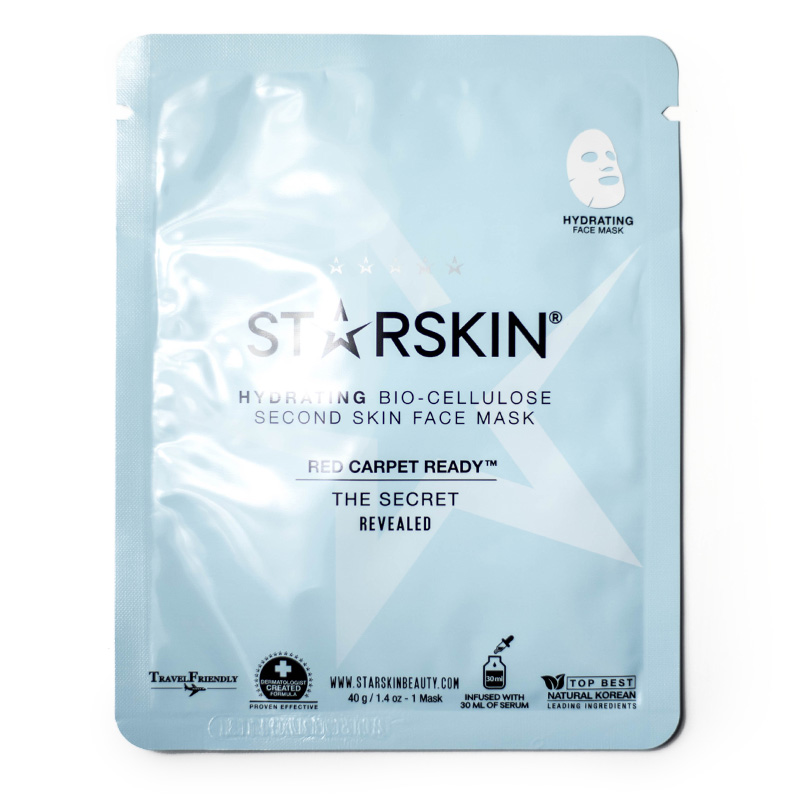 One to try: Starskin Red Carpet Ready Hydrating Face Mask
One of the most effective ways to pack a punch when it comes to skincare, sheet masks – cotton steeped within a potent no-wash serum that skin will literally drink up (and look all the more better for) – are not only super convenient, but ideal for a quick boost of skincare goodness. This one is designed to restore hydration to wan, lacklustre complexions thanks to a powerful serum complex rich in ingredients that improve moisture retention and improve skin's barrier function. The mask hugs the contours of the face, locking in the treatment for maximum impact. Once removed, skin is left smooth, supple, and radiant.
OILY SKIN:
Oily skin is typically caused by genetically determined hormone changes, which overstimulate sebaceous glands and can't be controlled topically. The visible effects of oily skin can be beaten however – clay and mud-based masks are the best weapons in the battle against shine, enlarged pores, excess blemishes, and blackheads. The function of a clay-based mask is to soak up and draw out impurities from deep within the skin, reducing the appearance of enlarged pores, and absorbing excess oils to prevent shine.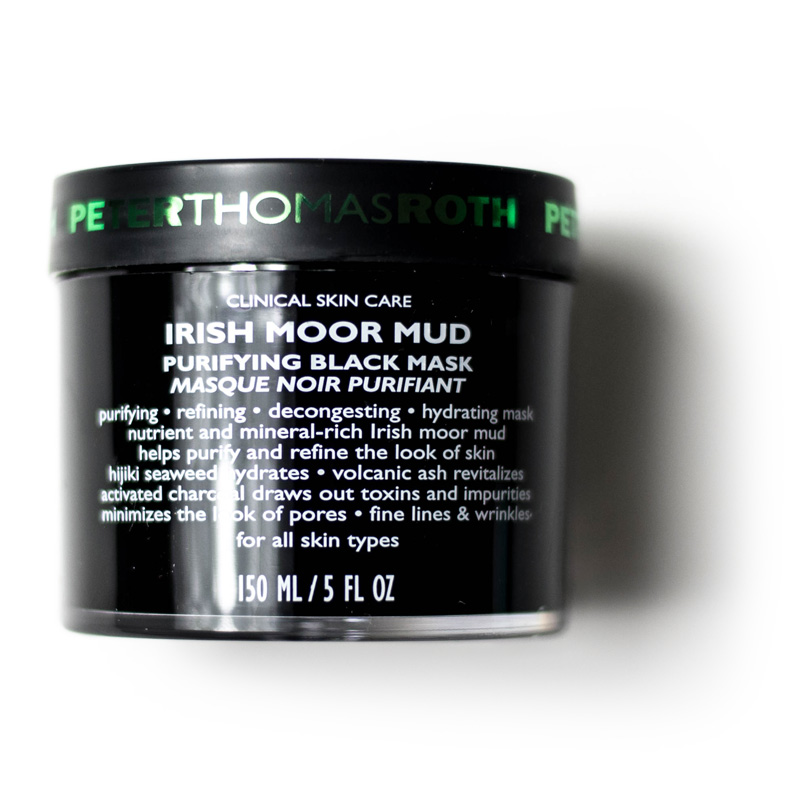 One to try: Peter Thomas Roth Irish Moor Mud Mask
Formulated with activated charcoal and volcanic ash combined with kaolin and bentonite clays, this mask removes deep-rooted blockage from pores, and soaks up excess oil to give skin a clean, matte appearance. The double-action formula means it's super efficient when it comes to cleansing and absorbing excess sebum, (T-zone problems, sorted). Meanwhile a cocktail of botanical extracts rich in vitamins, minerals, and fatty acids provides an active treatment for the skin, purging it of toxins and impurities to leave your face smooth, fresh, and oil-free. It may not sound glamorous, but if you have oily skin, it will become your salvation in times of crisis.
AGEING SKIN:
As we age, sun exposure and environmental aggressors take their toll upon our complexions. To address fine lines, loose skin, wrinkles, dryness, and discolouration, pick masks that deliver dual-action treatment via exfoliation and hydration. Packed with active ingredients, these face masks are the fastest ways to reduce obvious signs of ageing. Skin becomes dehydrated with age, so mature complexions will welcome the addition of extra hydrating ingredients, and formulas rich in antioxidants and moisture-boosters will stimulate collagen and replenish nutrients.
One to try: Arbonne Cellular Renewal Mask
You glow, girl. This masque gently exfoliates to visibly improve the appearance of skin tone and texture, minimize the look of pores, and provide a radiant glow.
In a matter of minutes dryness is diminished – polished, radiant, and supple, skin is given a new lease of life.
ACNE & BLEMISH PRONE SKIN:
Whether caused by hormones, product reactions, dietary triggers, or a build-up of bacteria, blemish-prone skin is identified by breakouts of sore, red, inflamed spots that can linger for months and form unsightly scars. The best masks adopt a dual-pronged approach to skincare when acne and blemishes are on the cards – prevention and treatment – and will soothe inflammation, unclog pores, and control irritation. It can be tempting to go in with strong products when your skin is freaking out, but the last thing you want to do is attack it with harsh, stripping ingredients, so, since it's already suffering, look for gentle, soothing ones that will help to quell inflammation.
One to try: Mario Badescu Healing & Soothing Mask
Popularly employed blemish battlers can cause troubled skin to become dry and irritated, and alongside the inflammation and redness caused by breakouts, leave skin in need of special care in order to restore balance and calm. This mask is infused with soothing oatmeal and zinc, which acts as an anti-inflammatory and helps to draw out blemish-causing impurities. The kaolin clay base acts as a cleansing agent, removing dead skin (which clogs pores and causes blemishes) and encouraging cell regeneration (to brighten pigmentation) whilst a blend of botanical oils provide gentle hydration.
DULL SKIN:
Over time, dead skin cells build up (due to lack of exfoliation, pollution, and improper cleansing), diffusing light and causing skin to look dull and lacklustre. Look for masks rich in fruit acids and enzymes, which gently exfoliate skin, dissolving the pore-clogging buildup that dulls your complexion, and promoting cell renewal to reveal healthy, radiant skin. When it comes to radiance, moisture is also key; healthy skin = hydrated skin. Light, water-based formulas will visibly rejuvenate your complexion, helping it to retain its plumpness for a lasting rested effect.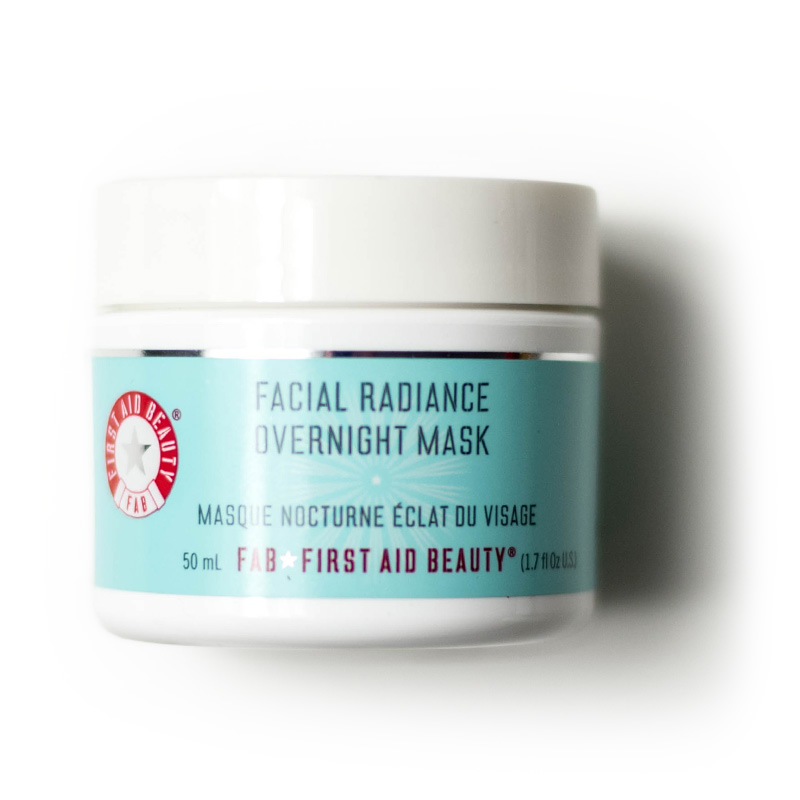 Boost your beauty sleep with this overnight treatment; designed to combine exfoliation with hydration in equal measure for a continuous supply of skincare goodness – it takes advantage of skin's overnight regenerative process to brighten whilst you sleep. The formula packs a hydrating punch, leaving thirsty skin quenched (it adds moisture without any greasiness), whilst Vitamin C brightens, and Echium Seed Oil nourishes and repairs. One night with it on and you'll look like you had the best sleep of your life.
With thanks to BeautyBay EDITed